"Right Now"
Single by Psy
from the album PSYfive
Released
October 24, 2010
Format
CD single, digital download
Recorded
2011-2012
Genre
K-pop
Length
3:39
Label
JAT Records
Writer(s)
Park Jae-Sang, James Harrison
Producer
Park Jae-Sang
Psy chronology

"Thank You"

(2010)

"Right Now"

(2010)

"It's Art"

(2011)
"Right Now" is the third single from South Korean rapper Psy's sixth studio album PSYfive. The song is co-written by Psy and British pop singer James Harrison. The song is the second of five singles Psy and Harrison have written together all achieved success.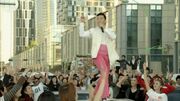 Weekly charts
Edit
Chart (2010)
Peak
position
South Korea
4
Sales and certifications
Edit
| Region | Certification | Sales |
| --- | --- | --- |
| South Korea | 6× Platinum | 650,000 |
Year end charts
Edit
| Chart (2010) | Position |
| --- | --- |
| South Korea | 31 |
Release history
Edit
Country
Date
Format
Label
South Korea
October 24, 2010
CD single
digital download
JAT Records
Psy and James Harrison version
Edit
"Right Now"
Single by Psy and James Harrison
from the album Duets
Released
21 November 2012
Format
CD single, digital download
Genre
Hip Hop, K-pop
Length
3:39
Label
JAT Records
Writer(s)
Park Jae-Sang, James Harrison
Producer
James Harrison
Psy singles chronology

James Harrison chronology

"Against All Odds (Take a Look At Me Now)"

(2012)

"Right Now"

(2012)

"Cookie Jar"

(2013)