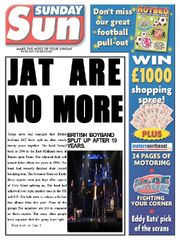 In March 2013 many newspapers reported that JAT had broken up. Rumours circulated around the world with many fans getting worried, these rumours grew and grew as none of the members said anything on it.
March 20, 2013
Edit
The Sun reports that the group had split after 19 years following Girls Aloud's break up and they weren't to do anything even as solo artists
March 21, 2013
Edit
A major person at JAT Records says the group will not be commenting on any reports of the reported break up.
March 22, 2013
Edit
JAT members tweet for the first time since the reports but mention nothing about the reports of the break up.
March 24, 2013
Edit
James Harrison and Kimberley Walsh appear on a talk show but Harrison refuses on to comment on the reports.
March 26, 2013
Edit
The group were scheduled to appear at Jay Sean's 32nd birthday party in London but the group aren't seen to arrive.
March 27, 2013
Edit
The group announce that they were at Jay Sean's birthday. Just after 11:30am Harrison tweeted that all reports were fake.